Detect AMP, COC, MET, OPI, THC, BZO, OXY, K2 & alcohol through a saliva drug test. Easy to use. Non-invasive. 1 Box of 25 pcs.
Regular price
RM900.00 MYR
Regular price
Offer price
RM900.00 MYR
Unit price
per
Offer
Sold out
Request a quotation
Share
View full details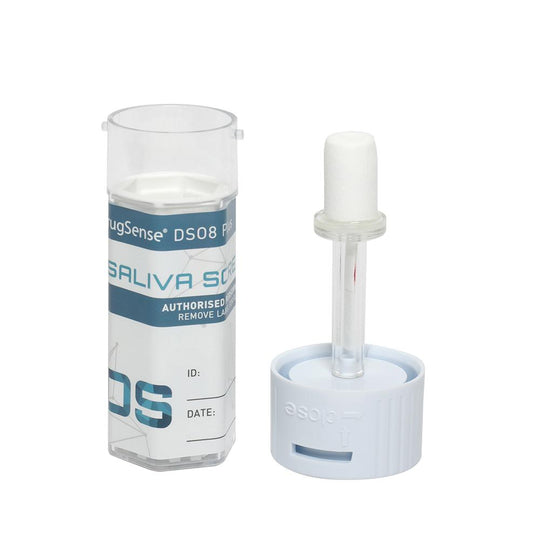 Detect 8 drug groups and alcohol in saliva with one drug test
Easy to use and non-invasive saliva drug testing.
AMP - 50ng/ml
COC - 50ng/ml
K2 - 25ng/ml

BZO - 50ng/ml
OXY - 40ng/ml
METH - 50ng/ml

OPI - 50ng/ml
THC - 15ng/ml
Alcohol - 0.02%BAC
How to use the DrugSense DSO8 Plus Saliva Drug Testing Kit
Prepare sponge collector

Unscrew the sponge collector from the test cup.

Collect saliva sample

Place the sponge collector into the subject's mouth, and let it sit for 3 minutes or until the sponge becomes fully saturated.

Place sponge into test cup

After the sample has been taken, firmly screw the sponge collector back into the test cup.

Read results in 10 minutes

Wait for the coloured lines to appear. Within 10 minutes, peel off the label along the indicated line to view the test results.
Great Product
Delivery was very fast, and great product simple and easy to use.
DSO8 Test Kits
Ordering was easy just click and pay, delivery was very fast and tracking was provided. Use of the test kits is simple and easy, and seeing the results in such a quick time. Great product and service.
Very helpful
Was prescribed duromine to loose weight and was worried it would show up as amphetamine on a road side drug test so I bought the saliva tests. Even though it was negative I was still to scared to drive because I am on parole.
Drug Testing
The drug test kits are simple to use and give us a result quickly so we can get the drivers back on the road quickly. We use them at random times or when accidents happen. It helps keep everybody focused on safety and compliance.
Site testing use
Very easy to use and reading of the results